Chromium Oxide
Chromium Oxide Ceramic Grade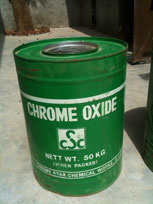 Synonyms
Chrome oxide green; Chromium (III) oxide; Chromium sesquioxide; Chrome green; Chromium oxide green ceramics; Dichromium trioxide; Chromia; Chromium (III) oxide; Chromia; Chromic acid green; Chromium oxide; C.I. 77288; Green Chrome Oxide; Green Oxide of Chromium; Green chromic oxide; Green chromium oxide; Green cinnabar; Green oxide of chromium; Chromic oxide
Specification
Model: CR-T
Cr2O3 : 99-99.6% min.
Coloring Strength : 100+/-5%
Moisture : 0.2% max
Water Soluble Salt : 0.3% max
Covering Power : 15g/m2 max
Residue(320 Mesh) : 0.5% max
Property
Chrome oxide is a green crystal powder, metal luster, magnetic, good covering strength, high temperature-resisting and sunlight fastness. Not soluble in water, barely soluble in acids, comparatively stable in air, unaffected by acids and alkalis of common density, sulfur dioxide, sulfur hydrogen etc. Chrome oxide green enjoys excellent quality and firmness of coloring.
Packing
Chrome Oxide is packed in 25kgs, 50kgs woven bags lined with PE liner or as request. 20-24MT will be loaded in per 20'FCL container.
Description
Chromium Oxide is an inorganic compound used in ceramics as a green colorant. Its chemical formula is Cr2O3, and it is available in powdered form. In addition to its use as a colorant in ceramics, chromium oxide is also used in paints, inks and glasses. It is a versatile chemical, known for its use in producing green tints in glazes.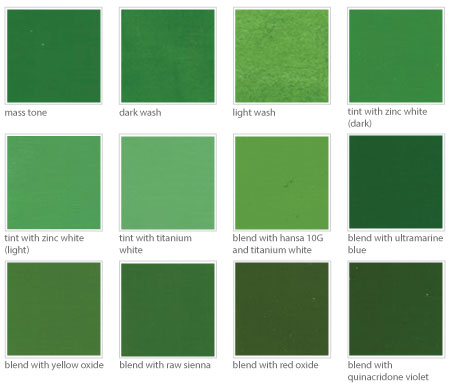 Chrome produces a wide range of greens, from a transparent glossy lime green to the more iconic, opaque, satin kelly green. The strong green color can often be modified by very small amounts of other oxides, like cobalt oxide, copper oxide, iron oxide, manganese dioxide, rutile, tin oxide, etc.
Chrome oxide can yield a variety of colors: red, yellow, pink, brown, and especially green. It is also used in black glazes and stains to give a strong, true black color.
Chrome oxide can be used as a body stain in amounts to 5% to give grey-green.
Drab chrome greens can be moved toward peacock green with the addition of cobalt oxide (1% each gives bright color). This works in boron and soda glazes.
Chrome in zinc glazes tends to form brown zinc chromate.
Chrome reacts with normally inert tin to produce chrome-tin pink colors, calcium carbonate and alumina are usually used instead of tin to lighten and clarify chrome green glazes
Chrome-tin pinks are much more consistent if the combination is premelted (i.e. commercial stain) and if the glaze is high in calcium or strontium, and free of zinc. Strontium is most effective if a wide firing range is desired (0.1-0.5% chrome, 4-10% tin).
Chromium oxide is added to enamels for green where borax and zinc are used to increase the brilliance of the color. However, chrome in ground coat enamels tends to react with the metal to cause blistering.
Chromium is used in the glass industry to make green glass (up to 1%). Antimony is sometimes used as a reducing agent to ensure an emerald green. Chromium is not very soluble in glass and does not form silicates or combine with fluxes readily unless compounds are finely ground and dispersed and amounts are not excessive. Amount up to 3% in a glaze recipe gives greyish green coloration
Currently, we are expoting this grade to large no of countries including Italy, Albania, Algeria, Argentina, Australia, Austria, Bangladesh, Belarus, Belgium, Myanmar, Cambodia, Canada, Colombia, Costa rica, Ivory coast, Croatia, Cyprus, Denmark, Ecuador, Egypt, Estonia, Ehiopia, Finland, France, Gambia, Georgia, Britain, Greece, Hong kong, Hungary, Indonesia, Iran, Iraq, Ireland, Israel, Italy, Japan, Jordan, Kenya, South Korea, North Korea, Kuwait, Latvia, Liberia
Free Ads
© Copyright 2005 - 2019 Chrome Star Chemical Works.